JPMorgan Touts Ukraine Bonds as Turnaround Starts After Selloff
The selloff that made Ukraine's bonds the worst performers globally this month prompted JPMorgan Chase Co. to recommend investors buy the debt on expectations the government will push through policies needed to keep international aid.
The nation's restructured Eurobonds rallied the most since trading started in November after JPMorgan increased the weighting of the debt in its model portfolio, a benchmark used by investors. Franklin Templeton, Ukraine's biggest bondholder, was also said not to have participated in a selloff that handed investors losses of 8.1 percent this month as concern deepened a $17.5 billion International Monetary Fund bailout would be jeopardized by political infighting.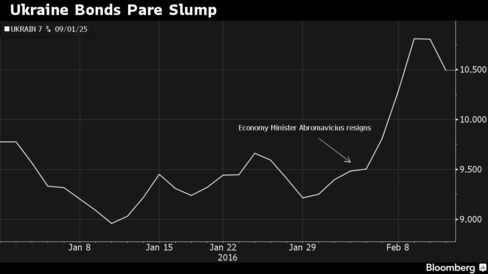 The aid "will most likely remain in place" and politicians will resolve differences that triggered concerns the government would collapse, JPMorgan said in a research note dated Feb. 10. Ukrainian President Petro Poroshenko assured IMF Managing Director Christine Lagarde on Wednesday that he was committed to taking "decisive actions" to ensure political and financial stability. This month's rout was triggered by the resignation of Economy Minister Aivaras Abromaviciuson Feb. 3.
"Buyers are back on the market," Sergey Fursa, a fixed-income trader at Dragon Capital in Kyiv, said by e-mail. While valuations look "attractive," the upside will be limited while concern over the viability of the IMF program remains, he said.
Bond Rally
The $1.31 billion bond due in September 2025 climbed 1.7 cents on the dollar to 83.78 by 4:20 p.m. in Kyiv, pushing the yield down 33 basis points to 10.48 percent and trimming the price decline this month to 7 cents. That's the security's best performance since Ukraine restructured $15 billion of debt last year to qualify for IMF cash and avoid bankruptcy amid a conflict with pro-Russian separatists in its easternmost regions.
The buying today was set against a broader selloff in global markets triggered by declining faith in central banks' ability to support the world economy. Franklin Templeton isn't selling Ukraine's bonds, according to a person with knowledge of the fund's holdings, who asked not to be identified because details are private.
Poroshenko's comments on Wednesday came after Lagarde warned earlier that day that it was "hard to see" how the bailout could successfully continue without further efforts to fight corruption and invigorate governance reforms.
"Ukrainian politicians acknowledge Ukraine's dependency on international financing and therefore will re-focus on implementing reforms," Nicolaie Alexandru Chidesciuc, an analyst at JPMorgan, said in the note. With a very-low near-term external debt burden and a slowly recovering economy, currency yield levels offer an attractive entry point to buy, he said.